To celebrate my 100th post on this blog, I've decided to take a fun quiz, courtesy of a paranormal romance author, Nalini Singh. Have a look at the result, which is based (among others) on the fact that my preferred psychic powers are Healing, Empathy and Telepathy:

Which Psy-Changeling Hero Is For You?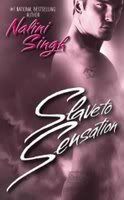 Your Psy/Changeling Hero: Lucas

Tough, dangerous and highly intelligent, the alpha of the DarkRiver leopard pack is a man who will demand everything from his mate. But he will give the same in return. And he will never let go.Find out more about Lucas and the series at www.nalinisingh.com
Take this quiz!









Quizilla
Join

Make A Quiz More Quizzes Grab Code